Film-maker Mike Freedman says we've hit "Critical Mass" toward extinction by over-population. Bill McKibben tells me why everybody in the world needs to battle the Tar Sands. Council of Canadians founder Maude Barlow links dirty energy to dirty politics. And native leader Caleb Behn on his fracked land, poisoned lives, and linking up around the world. With previews from film "Fractured Land". Radio Ecoshock 121121
FREE MP3 DOWNLOADS FOR THIS PROGRAM
Radio Ecoshock show November 21st, in CD Quality (56 MB)
Or try the faster downloading, lower quality Lo-Fi version (14 MB)
INDIVIDUAL INTERVIEWS:
MIKE FREEDMAN ON HIS NEW FILM "CRITICAL MASS" (overpopulation) in CD Quality or Lo-Fi
CALEB BEHN ON THE WORLD'S BIGGEST FRACK
Athabasca-Chipeweyan leader Caleb Behn (10 min) in CD Quality or Lo-Fi
MAUDE BARLOW ON TAR SANDS
Council of Canadians founder Maude Barlow with Tar Sands overview in CD Quality or Lo-Fi
HAVE WE HIT "CRITICAL MASS" ON HUMAN POPULATION?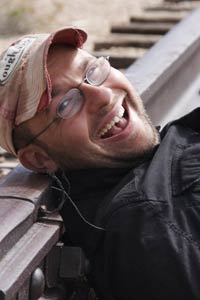 Director Mike Freedman
To make a bomb, you need critical mass. In the nuclear world, "critical mass" is the amount of radioactive material required, in the right shape, to create a self-sustaining chain reaction, and maybe a devastating explosion.
Millions of people around the world are wondering if we are heading toward that moment. Film maker Mike Freedman set out to document the really big picture, the forces that could culminate in disaster for humanity, and most living things.
Mike and I began by talking about another short documentary he posted on Vimeo about the Occupy London protests. It's called "Between Two Mirrors – Occupy London".
Several of Freedman's interview subjects have been on Radio Ecoshock, including Robert Rapier, Bill Rees, Richard Heinberg, and John Michael Greer. But he has Bill Rees and zoologist Desmond Morris, author of the "The Naked Ape", talking about population. It's a cast of alternative thinker all-stars, on a nearly taboo subject these days. Even environment groups don't want to touch overpopulation – despite the huge impact an extra 80,000 or 200,000 new bodies a day has on this small planet.
Desmond Morris talks about the meme of "we'll go to space". Great, but by then, we'd have to launch 200,000 people a day! That's a lot of space ships.
The film "Critical Mass" is pretty well finished in production, but needs to raise another $30,000 to pay for the rights for all the wierd and wonderful archival footage Mike Freedman weaves in. Find out how you can help launch this film at critcalmassfilm.com
TAR SANDS PANEL LAYS OUT THE DIRTY TRUTH
Then we go to the Tar Sands, plus the network of proposed mega-pipelines which will let them double in size. Not to mention super-tankers on Canada's stormy west coast, or going out of Vancouver's gorgeous harbor.
NASA scienstist James Hansen clearly says if we burn all the oil from the Canadian Tar Sands, it's game over for the planet's climate (at least for us mammals). Now the American government has just agreed to big leases in Utah to start a Tar Sands operation there. Don't do it Utah! Listen to the growing mess of poison in Alberta Canada.
THE WORLD'S BIGGEST FRACK: IN NORTH EASTERN BRITISH COLUMBIA. WHO KNEW?
Caleb Behn at TedX (video here)
Listen to Caleb Behn, the lawyer-in-training and native leader who grew up in the Athabascan region. Behn's talk to a few hundred people in Burnaby B.C. (a suburb of Vancouver) on October 25th was short and bittersweet. A people already weakened by colonization is being systematically poisoned by air and water pollution from the Alberta Tar Sands.
I mix in some clips from the new film "Fractured Land" by Damien Gilles. That isn't out yet. Find a trailer at fracturedland.com.
As a British Columbia resident, even I didn't know the full extent of gas fracking in the remote north eastern part of the province. It's the world's biggest single fracking operation. The government just ran a multibillion dollar power line up to the region, bringing electricity for the first time, just to power all the gas fracking rigs (and maybe a mine or two). The wild land there is being industrialized at a huge rate, while whole rivers of water are turned into toxic waste. It's painful just to hear about it.
WHO CARES WHAT IS GOING ON IN SOME REMOTE PART OF CANADA?
Bill McKibben was there. His speech has already been posted at radio4all.net by the Redeye Collective.
In the Q and A, I asked McKibben why my many American listeners should bother with what is happening in a remote part of northern Canada? "They don't call it global warming for nothing." McKibben replied. You can debate about second hand smoking, but second hand carbon warms our whole world. Folks in from the far Pacific Islands right to the Rockaways of New York all pay the heavy price of burning the world's dirtiest energy, the Tar Sands oil.
MAUDE BARLOW GIVES US THE BIG PICTURE: DIRTY OIL AND DIRTY POLITICS
The program ends with Maude Barlow, famous in Canada and the world. She founded the Council of Canadians, co-founded of the world water rights group Blue Planet Project, is a founding member of the San Francisco–based International Forum on Globalization, and a Councillor with the Hamburg-based World Future Council. Barlow has written more than a dozen books.
Barlow gives us a frightening overview of the Tar Sands, the pipelines that will release this dirty oil to the world, and the dirty politics behind it. A worthy listen.
MY THANKS TO ALL THOSE WHO DONATED TO RADIO ECOSHOCK!
We got a good response to our first-ever appeal for donations. It was great to get support from all over the world, from Australia to Scandinavia.
American listeners were especially generous. Happy Thanksgiving to all those in the States.
Radio Ecoshock is about half way to the amount needed to fund the program into the New Year. If you would like to contribute, please hit the donate button on the upper right of this blog.
You can use PayPal, or any credit card (you don't have to be a member of Paypal.) Please remember to fill in the amount first, and THEN choose your country, to get the right options to continue.
Last week's program on Kevin Anderson set a new record for blog reads and downloads. Apparently a lot of people know the climate situation is worse that we have been told. The Cabot Institute at the University of Bristol is working on a video version of the event. I'll let you know when that is ready.
Coming up: we'll talk about climate change spooks, and then a program to help you grow your own food right in the city.
Alex Smith